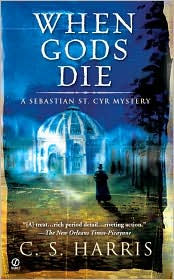 When Gods Die by CS Harris is the second title in Ms. Harris' ongoing Sebastian St. Cyr mystery series. The first title is What Angels Fear, the series is currently on its fourth title. This is the only one I've read, so I can't say if you can read these out of order. I suspect you could if you're only reading them to decipher the mysteries, but if you want to put together the puzzle pieces of St. Cyr's background it's probably important to read them in order. I've already messed that one up, but I have the rest of the books from the library so I can fix that. Ms. Harris used to write romances under the name Candice Proctor. I've several of those in my TBR. I'm currently not planning to read them.

Sebastian St. Cyr, Viscount Devlin, age 31, is a Napoleonic War veteran, heir to the Earldom of Hendon, investigates murder-mysteries on the side. He is his father's only surviving son, his mother is deceased, he is estranged from his sister and he is head over heels in love with an actress. Kat Bolyen, age 26, is that actress. She is of Irish descent and she hides a big secret from Devlin. They claim to love each other, but she's using a pseudonym. Kat is Sebastian's anchor. The person he turns to for comfort. The one he uses as a sounding board when he's thinking over tidbits of information. He's careful not to press her about the details of her past and she's careful to always say no whenever he proposes. My question is: can love survive ideology? Which is worse: the act itself or omission of what you've been doing? My other question is: does Devlin realize he's surrounded by people who withhold important things from him? Family related things, personal things- as opposed to things relevant to solving the mystery.

The mystery itself appears to be straightforward. Young Guinevere Ellsworth, Marchioness of Anglessey, is found stabbed and dead in the arms of the Regent, Prince George. George, rumored to be mentally unstable, is wildly unpopular due to his profligate ways and total unconcern for the populace. The powers behind the throne are Lord Jarvis, the Regent's cousin, and Lord Portland. Jarvis summons Devlin and convinces Devlin to investigate by showing Devlin a necklace the Marchioness had been wearing at the time of her death. A necklace last seen clasped around Devlin's mother's neck when she died.

Lady Anglessey was in her early twenties married to a man in his late sixties or early seventies. According to those who knew the couple, they were fond of each other and loyal. Unfortunately, the Marquis of Anglessey was childless with both of his wives- much to his chagrin. His heir is an inveterate gambler who is continually short of money due to his fondness for wine, women and song. Also- the heir had a short temper and had been heard to threaten Lady Anglessey. On top of all that, he claims Lady Anglessey's early pregnancy wasn't the Marquis' baby.
Devlin struggles to put the pieces together while coming to an horrifying conclusion about his family. Kat receives news she has been dreading for months. One of Devlin's servants is falsely imprisoned and an inn is gutted by arson to hide a murder. How in heaven's name are all of these things connected? The reader knows that he'll put them all together before the last page, but there are other questions left to be answered.

Ms. Proctor's previous writing history as a romance author shows subtly here. The richness and depth of the setting and the characterization really caught my attention. I figured out the mystery but only a few pages before the final events began to wind up the action. I have to say, I'm hooked on Devlin and his mysteries now. I've been told that Ms. Proctor's romances are superb and I have to say that the mysteries are off to a fantastic start. Brava!